current projects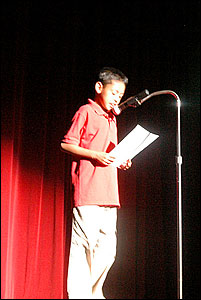 poetryXchange Recieves Grant Award from California Council for the Humanities
(Orange County, California) — The California Council for the Humanities has recently announced the 2011 California Story Fund grantees. poetryXchange has been awarded $10,000 for its project entitled "Poetry for Democracy."
The California Story Fund (CSF) is a competitive grant program of the California Council for the Humanities (CCH). The purpose of CSF is to capture genuine and compelling stories from and about California's diverse communities, and to ensure that those stories can be shared widely.
poetryXchange will offer a poetry workshop themed on democracy for middle school students at El Sol Academy in Santa Ana. Poetry discussed and created in these workshops will be shared with the community through an engaging poetry blog and a series of public events throughout the county. "This project couldn't be taking place at a better time," says poetryXchange Founding Director and UCI poet Sue Cronmiller, "when citizens for a vital democracy are raising their voices across the globe. Poetry is a powerful and essential form of comprehension, integration, and communication, yet the literary arts are, for the most part, underrepresented here in OC."
"With our state's incredible diversity, fostering communication and connecting people to a range of ideas is vital for our general welfare," said Ralph Lewin, president and CEO of the California Council for the Humanities. "Our grant enables awardees to pursue the important work of engaging new audiences in conversations around stories of significance to Californians."
Through its California Story Fund, the Council has granted over $2.2 million to projects since 2003. The California Council for the Humanities is an independent non-profit organization and a state partner of the National Endowment for the Humanities. For more information on the Council please visit www.calhum.org.
For more information about poetryxchange visit www.poetryxchange.org. Or contact Sue Cronmiller at sue@poetryxchange.org.
---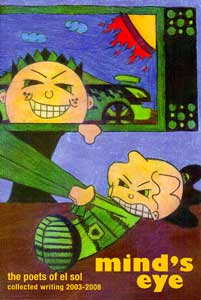 Now Available: Mind's Eye: the Poets of El Sol
Representing eight years of writing workshops at El Sol Academy of Arts and Sciences in Santa Ana, Mind's Eye is an enchanting and eye-opening anthology of elementary student poetry written by students living in one of the poorest urban neighborhoods in the nation.
Edited and introduced by the UCI Poetry Academy founder and director, Sue Cronmiller, MFA.
Available at the UCI Bookstore or by email request.
Read Mind's Eye online at the UCI Poetry Academy website: www.uclinks.org/PA
---
Visible Community: Writing and Photography by Orange County Youth
Now enrolling!
Three-week Summer Institute in Poetry and Digital Photography at the Orange County Museum of Art

July 10 - July 28, 2006
Monday, Wednesday, Friday 1:00 to 4:30
Ages 10-14

Poetry Workshop
Read, write and publish your own work online with Sue Cronmiller, poet and Director of the UCI Poetry Academy.

Digital Photography
Investigate and practice the art of digital photography with poet and photographer Allison Miller, Assistant Director of poetryXchange.

Lessons based on OCMA's current photographic exhibition Catherine Opie: In and Around Home. Includes tours of the gallery and a comprehensive study of Catherine Opie's art and career.

Fees:
450.00 for non-members
400.00 for members
30.00 registration fee per family

Click here to download fill-in form. You can fill in form online for printing.

For more information or to register, contact Sue Cronmiller at 949-202-9522.

---
Writing from New Orleans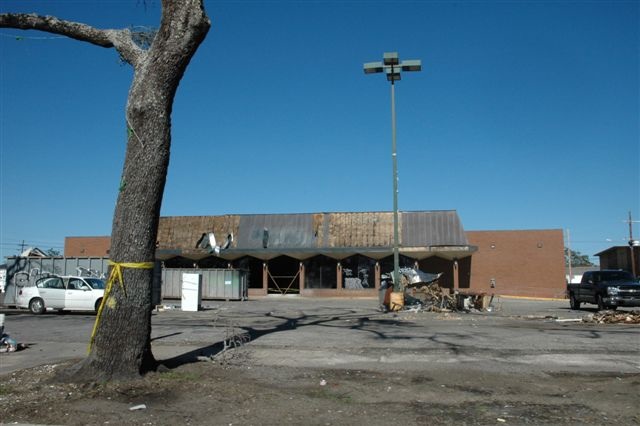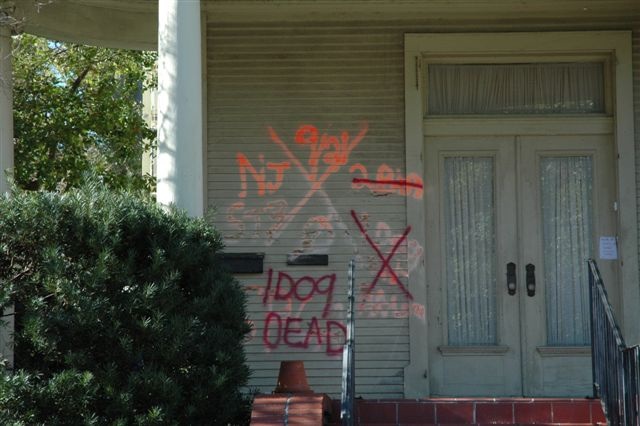 As representatives of an emergency educational response initiated out of UC Berkeley, poetryxchange writers Sue Cronmiller and Allison Miller recently embarked on a project using internet technology to connect kids living in temporary shelters with undergraduate mentors.
To help initiate the project, Sue Cronmiller designed a poetry-based reading and writing curriculum relevant to the new learning environment. Allison Miller worked with representatives from Apple, on-site technical support and university personnel to develop and test the remote access technology.
In November 2005, Cronmiller and Miller met in Baton Rouge with faculty from Louisiana State University, local communitiy leaders and officers from the Louisiana Department of Education to plan a new, interstate educational collaboration.
In January 2006, Cronmiller and Miller traveled to New Orleans to test the technology, meet with colleagues at Tulane and LSU and pilot the writing curriculum with kids who had lost their homes in hurricane Katrina and who were then living, with their families, aboard the carnival cruise ship docked at the Julia Street Wharf in the city of New Orleans.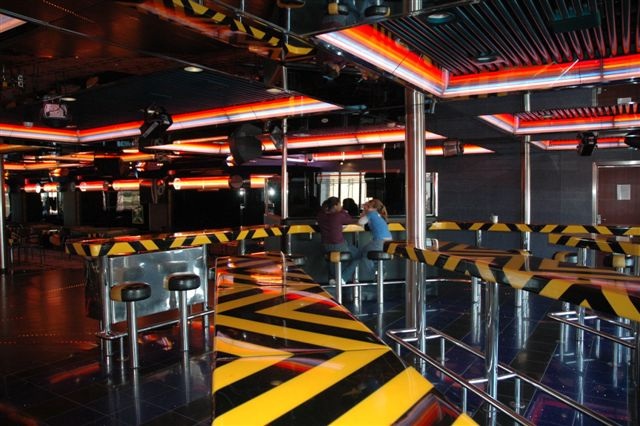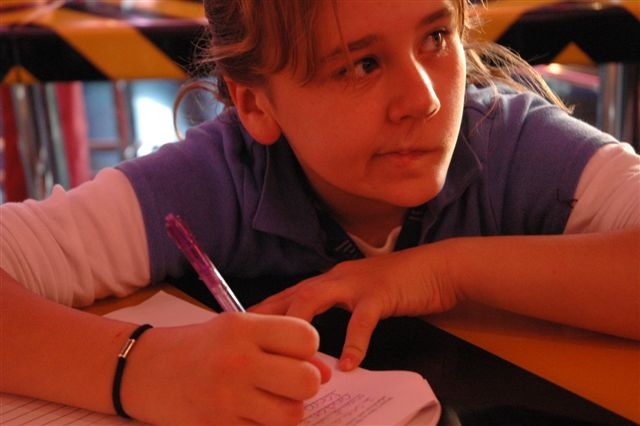 To read writing produced from the January visit, click here.
---
recent projects
Here. Now. / Aqui. Ahora.
Portraits from Santa Ana High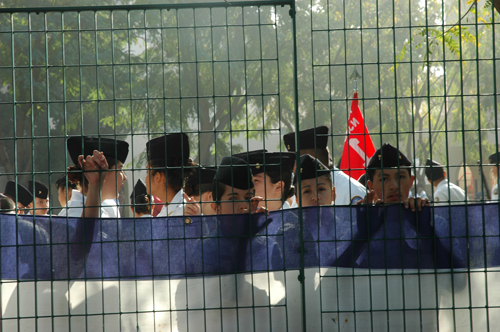 Photo by Orlando Vences
A series of original photographs and lyric narratives created by seniors at Santa Ana High School under the tutelage of writers and artists from poetryXchange.
In cooperation with poetryXchange, students also took part in a master class conducted by L.A. Times photographer Don Bartletti. In 2003, Mr. Bartletti was awarded the Pullitzer Prize for "Enrique's Journey," work documenting the migrations of Honduran youth through Mexico into the U.S. in search of their departed parents.
"Here. Now. Aqui. Ahora: Portraits from Santa Ana High" is one of four statewide New California Story Projects funded by the California Council for the Humanities in 2004-2005. Locally, the project is supported by a grant from the Wells Fargo Foundation.
Exhibitions
Cerritos Public Library -- April 5, 2005 - May 1, 2005
The Old County Courthouse Museum, Santa Ana -- April 24, 2005 - May 20, 2005
Arts on the Lawn, Santa Ana High School -- May 12, 2005